Developing a Pan American Hub for Environmentally and Socially Compatible Mining
Rapid economic development in emerging economies is causing socio-environmental conflicts in Latin America where a large fraction of the mineral commodities are mined. Rifts between affected communities, industry, and governments disrupt the steady supply of metals and will require an internationally prepared workforce and active participation of impacted regions to deliver holistic solutions that address key aspects of mining capacity, environmental impacts, and social issues. We believe the solution to these problems is to develop transdisciplinary step change solutions in an international collaboration with professionals and community members from distinct disciplines
"Developing a Pan American Hub for Environmentally and Socially Compatible Mining" was the second conference in a series of three on the theme of environmentally and socially compatible mining. The primary goal of this conference was the development of a Pan American Hub, with secondary discussions on developing a focused theme on mitigating community exposure to the toxic pollutants produced by mining operations. Conference documents, including both the agenda and formal presentations, are provided below.
En Español
El rápido desarrollo de las economías emergentes está causando conflictos socio-ambientales en América Latina, donde hay una extracción de gran parte de los recursos minerales a escala mundial. Las divisiones entre las comunidades afectadas, la industria y los gobiernos pueden interrumpir el suministro de minerales. Para resolver estas divisiones se necesitan profesionales preparados a nivel internacional y la participación activa de las regiones afectadas para ofrecer soluciones integrales que aborden los aspectos clave de la capacidad minera, los impactos ambientales, y las cuestiones sociales. Creemos que la solución a estos problemas es el desarrollo de soluciones trans-disciplinarias en una colaboración internacional con profesionales y miembros de la comunidad de distintas disciplinas.
La segunda en una serie de tres conferencia sobre el tema de minería social y ambientalmente compatible se llamo "Desarrollo de un Consorcio Panamericano para la Mineria Social y Ambientalemnte Compatible". El primer objetivo fue desarrollar un plan para el arranque del Consorcio Panamericano con una discusión secundaria sobre la mitigación de la exposición de las comunidades a los contaminantes tóxicos de las operaciones mineras. Los documentos de la conferencia, incluyendo la agenda y las presentaciones, se encuentran a continuación.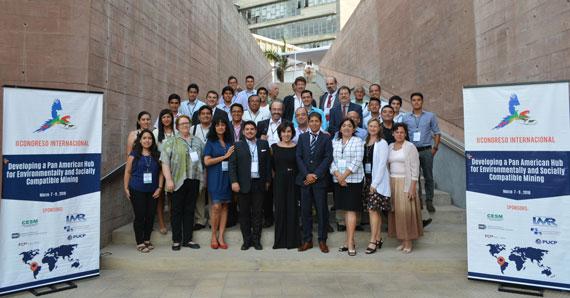 Agenda
Presentations
Scenarios (Escenarios)
Sources of Conflict (Fuentes de Conflicto)
The Economy (La Economía)
The Industry (La Industria)
The Community (La Comunidad)
Policy Issues (Asuntos Políticos)
Emerging Issues (Asuntos Emergentes)
Environmental Science & Engineering Interventions (Ciencias e Ingeniería Ambiental)
Sponsors
National Institute of Environmental Health Sciences (NIEHS) 
Pontificia Universidad Católica de Peru (Peru)
University of Arizona Superfund Research Program (USA)
Lowell Institute for Mineral Resources (USA)
Center for Environmentally Sustainable Mining (USA)